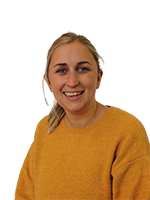 Welcome to FS2, I cannot wait for you all to begin your full time journey at Sandhill and I am looking forward to meeting the children who are new to our school! If you have any worries or questions about FS2 please message me on dojo. I am looking forward to seeing your happy and smiley faces at school in September.
My name is Miss Charles and I have been a teacher at Sandhill since 2012. Out of school I enjoy taking my dog for long walks, (he is a Dutch Shepherd called Kyle), and have just started having my own lessons in golf. as well as recently joining a local netball team.
You will enter the FS2 classroom via the door at the rear of the Foundation building. Children can say goodbye to their grown ups outside the classroom and enter the room independently.
We will have PE once a week in FS2. For this you will need to wear a white t-shirt and black shorts/ trousers with black trainers. Over the summer please practise getting dressed independently, (including zips and buttons), as we may be asked to change at school into our PE kits.
Make sure you are signed up to, and keep an eye on, Class Dojo as over the summer we will be sharing more information of learning to come and photographs of your new learning area. When you come to school in September you will have your own peg with your name on and please don't forget to bring a bottle of water.
In FS2 we will take part in lots of exciting learning and exploring. We will cover topics such as 'all about me' where we will learn about who you are, your body and where you live. We may also learn about other things such as animals, vehicles, people who help us and the seasons.
In FS2 we love looking at the wearing and comparing how the world around us is always changing! We will do lots of reading together in FS2 and we love it when children bring in their favourite books for us to read at story time.